SiriusCon 2022: 2 days, 2 topics!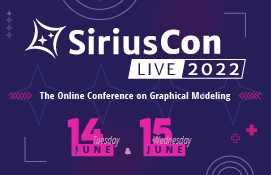 The Online Conference on Graphical Modeling

During this free and online event, discover users' feedback and advanced features demonstrations. We want the Eclipse Sirius community to get the opportunity to meet the team behind the tool and to learn from adopters' experiences.
Discover what's new since the last edition and what the team has been working on during the last few months. In 2021, 359 participants representing more than 50 countries had been registered for SiriusCon. We hope the 2022 edition will make a new participation record!
Discover the program
We are happy to announce the topics and speakers selected for SiriusCon 2022:
Visualizing, Analyzing and Optimizing
Automotive Architecture Models using Sirius
MAXIMILIAN HAMMER, Technical University of Ilmenau
SimfiaNeo - Workbench for Safety Analysis powered by Sirius
YANN MORTIER, APSYS - Airbus Group
XAVIER DE BOSSOREILLE, APSYS - Airbus Group
Development of DSL for Context-Aware Mobile Applications
ESTEVAN GOMEZ, Universidad de las Fuerzas Armadas - ESPE
Defining Viewpoints for Ontology-Based DSLs
MAGED ELAASAR, NASA - Jet Propulsion Laboratory
Sirius Project, Now and In the Future
MÉLANIE BATS, Obeo
Sirius Web 101 : Create a Modeler With No Code
FRÉDÉRIC MADIOT, Obeo
Sirius Web Advanced : Customize and Extend the Platform
STÉPHANE BÉGAUDEAU, Obeo