Sirius roadshow in Munich in June: registration is open!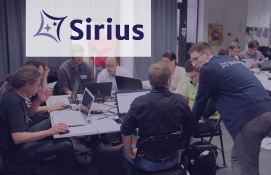 After the success last year of the one day free event dedicated to Eclipse Sirius in Munich, we come back on June 27th for a new roadshow!
Just bring your laptop and enjoy!
What is Sirius?
Sirius is an Open Source technology that you can use to easily create your own graphical modeling tool.
Sirius is an Open Source project hosted by the Eclipse Foundation. Gathering a growing community, it has already been successfully deployed in numerous industrial projects (aerospace, industry, communications…).
What about the Sirius Roadshow on June, 27th?
This free event is open to systems or software architects who need a custom graphical modeling tool.
In the morning you will discover Sirius and several concrete uses-cases

Graphical Modeling of Physical Equation Systems by ETAS-Bosch
Model-based systems engineering with Capella, a tool developed by Thales

In the afternoon, supervised by our team, you will create a specific graphical workbench dedicated to your own domain.
Here is an overview of the program:
9:00 - 9:30: Welcome coffee
9:30 - 11:00: Sirius presentation and demonstration
11:00 - 11:30: Coffee break
11:30 - 12:00: Use-case by Lars Geyer-Blaumeiser, ETAS-Bosch "Constraint Graph: Graphical Modeling of Physical Equation Systems"
12:00 - 12:30: Capella presentation and demonstration
12:30 - 14:00: Lunch
14:00-15:30: Hands-on
15:30 - 15:45: Coffee break
15:45 - 17:15: Hands-on
17:15 - 18:00: Debriefing
The Sirius roadshow will be held at Fortiss GmbH, Guerickestraße 25, 80805 München.
To get registered, please fill in the form:
Camille ( This email address is being protected from spambots. You need JavaScript enabled to view it. ) is also at your disposal if you need any further information.
See you soon in München!