INCOSE, the right place to talk about embedded systems and Capella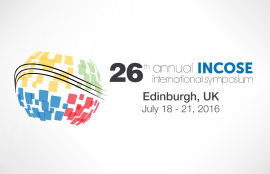 On July 18th, Obeo will be at the 26th annual Incose International Symposium, a key date for the Systems Engineering community.
Meet there Samuel Rochet and the Thales team at the PolarSys shared booth where you will get the opportunity to discover Capella, the first field-proven, extensible and Open Source Model-Based Engineering workbench.
Indeed, Thales and Obeo combine their expertise to provide a wide offer that covers the complete life-cycle for the professional setting-up and deployment of Capella.
As usual, Incose will be full of great talks and we highly recommend these ones:
- Simplifying (and enriching) SysML to perform functional analysis and model instances on Monday 18th 2:15-2:55 pm at Pentland Auditorium
- Transportation Industry Roundtable Part 1: Overcoming complexity: how transportation is tackling systems issues in multi-project, multi-contract deliveries on Monday 18th 3:30-5.30 pm at Tinto room
Edinburgh here we go!