EclipseCon Europe: Wilkommen in Deutschland!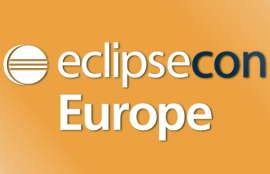 Next November 3rd, Obeo will be in at Ludwigsburg Germany to assist to EclipseCon Europe, one of the main Eclipse Foundation events.
This conference is essential for those who are interested in modelisation tools.
As a major contributor to the Eclipse technologies (strategic member, 5th international contributor, leader of many projects, a member of the Eclipse Foundation's board of directors, another one in the architecture and planning councils), Obeo has not missed any occasion since 2007.
This year, we will be still there to present our last innovations.
On Wednesday, from 3.15 pm, Etienne Juliot will present the (several!) Eclipse Sirius advantages.
On Wednesday, from 4.15 pm, meet Laurent Delaigue to discuss on EMF Compare, an open source solution used to compare EMF models.
On Thursday, from 10.30 am, Mélanie Bats and Benoît Combemale from IRISA will show you how they extend Eclipse Sirius to dynamically animate diagrams in order to simulate models execution.
Finally, on Thursday at 1.30 pm, Maxime Porhel will tell you everything about Sirius new features developed since one year, and the next to come.
You can also discover Arduino Designer at the IoT Playground, on November 4th. At Obeo, we like to be serious without taking ourselves seriously :)
Sign that the Eclipse community is more and more active, 3 talks about Sirius are going to be done by none Obeo speakers:
If like them you are a modeling technologies and Open Source passionate, meet us at our booth to discover Sirius 3.1. The Obeo team will be happy to welcome you during all the conference long.
Bis bald!