Capella webinars: two use cases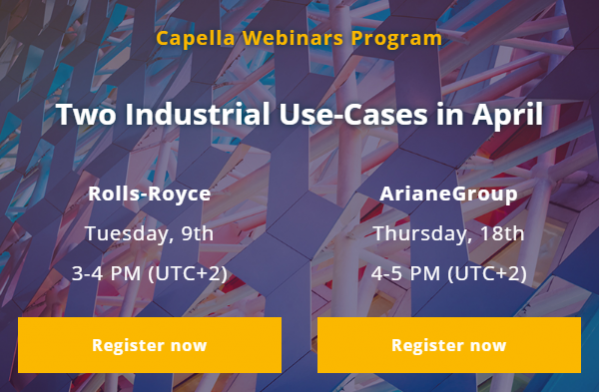 April is a Capella busy week with two industrial use-case.
On the 9th April, we had the pleasure to listen to Jim Daly (Rolls-Royce UK). Jim talked about Arcadia and Capella for a large complex mechanical system.
Rolls-Royce is a pre-eminent engineering company focused on world-class power and propulsion systems.
This webinar discussed how Rolls-Royce is using Arcadia / Capella to define the architecture of a large civil aerospace turbofan engine. MBSE promises to help manage system complexity and minimise the associated risk.
This webinar was driven by Jim Daly: Jim Daly has nearly forty years' experience in aerospace engine development: fuel systems; control systems; software development; process improvement and thirteen years in current role as a System Architect at Rolls-Royce, responsible for control system and whole engine architecture and since 2016 deployment of MBSE.
You missed the Rolls-Royce UK Use-Case and Jim Daly's presentation? Enjoy the recording and slides!
- Recording: http://bit.ly/Video_RollsRoyceUseCase_Capella
- Slides: http://bit.ly/Slides_RollsRoyceUseCase_Capella.

And do not forget to register for the next Capella webinar (Thursday, 18th April - 4 to 5 pm UTC+2). Clément Grise will get you feedback on ArianeGroup Capella tool deployment. You will learn how ArianeGroup is meeting the challenges of multi-disciplinary system engineering. Registration link