SiriusCon 2016: the free conference on graphical modeling with Eclipse Sirius!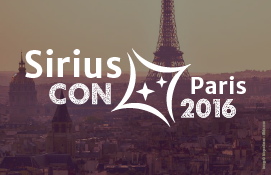 After the success of the first edition, SiriusCon is coming back on Tuesday, November 15th 2016!
This one-day free event is the perfect time for the Open Source modeling community to meet and to share with the developer team behind the Eclipse Sirius innovative technology
Although it's free, book early as the number of places is limited!
Advanced features presentations, examples of Sirius uses, tutorials for both beginner and advanced users, a Sirius Clinic where you can get feedback on your projects… do not miss the 2016 edition!
If you have interesting topics to say and to show about Sirius, we invite you to propose a talk
We are interested in:
Testimonies about how Sirius is used in your working contex
Extensions of Sirius technology to meet specific or general purpose needs
Other cool stuff with Sirius!
Proposed format is 25' for the presentation + 5' for questions. Just drop us an email at This email address is being protected from spambots. You need JavaScript enabled to view it. to submit an abstract of your presentation. Submission deadline: September 18th