Obeo is at EclipseCon 2022!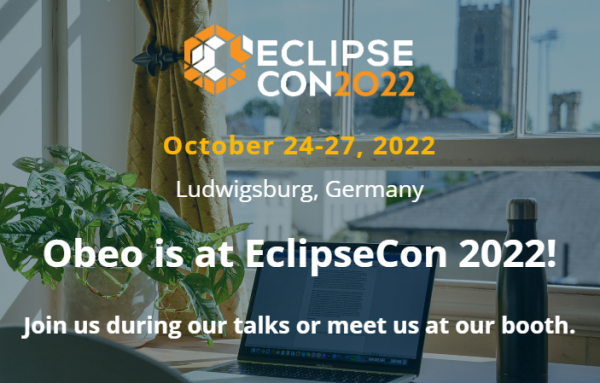 Meet us at EclipseCon to learn everything about Sirius Web!
Sirius Web
is an open-source low-code platform to define custom web applications supporting your specific visual languages.
Join us at this event, our team will be there to present 3 talks about Sirius Web and will be at our booth to answer your questions and show demos.
11:45 AM to 12:20 PM CET | Bürgersaal 2
Langium + Sirius Web =
by Axel RICHARD (OBEO) and Théo GIRAUDET (OBEO)
The leading conference for developers, architects, and open source business leaders
Obeo is proud to be a sponsor of EclipseCon 2022 and to actively participate. It is the perfect event to learn about Eclipse technologies, share best practices, and so on.

EclipseCon connects the Eclipse ecosystem and the industry's leading minds to explore common challenges and innovate together on open source runtimes, tools, and frameworks for cloud and edge applications, IoT, artificial intelligence, connected vehicles and transportation, digital ledger technologies, and much more.

Join us at one of our presentations, or come and meet us at our booth. Check out the complete program online!