Obeo invites you to EclipseCon France on June 24 & 25 in Toulouse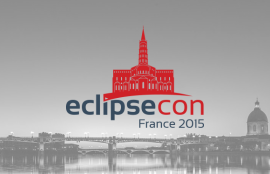 The new edition of EclipseCon France will be showcased on June 24 and 25 in Toulouse, France. Take the opportunity to meet fellow actors in the Eclipse community and discover the latest this Open Source platform has to offer.
Every year the conference covers a variety of topics and this year is no exception including sessions on: Internet of Things, Embedded Systems, Modeling, and Web Development. Industry feedback will give you a real feel on how Eclipse is being implemented by businesses.
Discover Sirius 3.0
As sponsor for the third year running, Obeo's stand will be ready to assist with preview demonstrations of Sirius 3.0, officially out on June 25, the same launch date as Eclipse Mars - the new version of the platform.
Three sessions on Sirius feature on the conference program:
Sirius in action
You can also learn how Sirius is actually used in industry.
Thales and PRFC will present Capella, an Open Source Workbench for Systems Engineering:
And finally Sagem will explain how their teams develop critical embedded software whose "construction" maintains coherence between their different design models.
Enroll now not to miss a great opportunity to meet with the Eclipse community in France.