Obeo at The Open World Forum 2014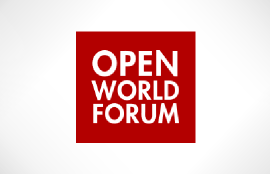 Obeo will be at The Open World Forum this week with 3 talks.
On Friday morning, Obeo will co-lead the track When Open Source Fosters Open Innovation.
Laurent Delaigue (Obeo) and Laurent Charles (Enalean) will present how two SME have worked together to tool up Ericsson with the first agile Open Source solution in Eclipse.
Then, Stéphane Lacrampe will tell the story of the Thales and Obeo partnership. This close collaboration has led to the Open Source release of the Sirius project.
These two success-stories will highlight the virtuous circle between Open Source and Open Innovation.
On Friday afternoon, Christophe Boudjennah will participate to the Embedded track and will present How to land on Mars with PolarSys technologies. On this occasion you will discover PolarSys, the consortium which aims to provide Open Source technologies to develop embedded systems on the very long term.
The Open World Forum is an annual conference exploring Open Source, Open Hardware, Open Data and the Open Web for two days in Paris. This edition will take place from October 30 to October 31.
To learn more:
http://www.openworldforum.paris/