Join us at CSD&M Paris 2020's Online Edition!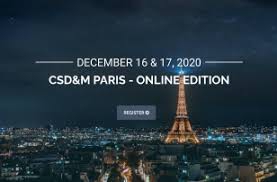 Welcome to CSD&M Paris Online Edition
Beginning on the 16th of December and ending on the 17th of December the most recent edition of CSD&M Paris will be going on!
This year we're happy to announce that we'll be participating at CSD&M Paris 2020 as speaker and sponsor, a web event organized by CESAMES.
Mastering complex engineered systems is a fundamental strategic challenge. And to help surpass these complex engineered systems, we'll be sharing ideas, methods, and tools with the systems engineering community during use-case presentations, coffee sessions, and carousel networking. We'll also be hosting a virtual booth.
Discover more about our most recent updates to Publication for Capella with our talk: " Mind the Gap: ALM & MBSE " on the 16th of December at 11:30 till 11:50 CEST and learn how making you can make your teams and organization more agile with our Coffee Session "Agility and MBSE by Obeo" on the 16th of December at 11:15 till 11:30 CEST both presented by Obeo VP Etienne Juliot.
You'll also be able to pop by our booth during the event, where we'll be available for any questions, discussions, or if you simply want to stop for a chat! You'll be able to download a brochure and view a demo from the booth as well. If you have even more questions that you want to ask privately, you can always arrange a private meeting with one of our representatives during the event at the booth. ( Fill out this form to organize a 1 to 1 meeting
We won't be the only ones demonstrating the various capabilities of Capella during CSD&M Paris. Don't miss out on 3 other talks that will be presenting the Capella tool during their case-studies:
16th December 10:30 AM - 11 AM CEST: Tony Komar from Siemens will be presenting "Managing the Complexity of Innovation - Medical Device Example"
17th December 10:00 - 10:30 AM CEST: Jean-Luc Voirin from Thales will be presenting "Dreaming the future: Systems engineering in 2030"
17th December 10:00 - 10:30 AM CEST: Philippe Fiani from Sherpa will be presenting "A contribution to the reconciliation of MBSE methods"
Thale's and Sherpa's talks' schedules do collide, but worry not! You can always use the VOD system to rewatch any past talk whenever you want. And for more information on the talks, check out the agenda here: https://2020.csdm.fr/#schedule
So join us on the 16th and 17th December and learn insightful new methods from case-studies, presentations, workshops and more during CSD&M Paris 2020. Register and learn more here