Get ready for this year's edition of Capella Days 2021!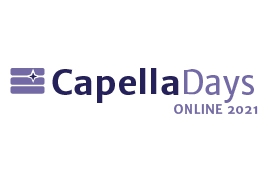 Join us this year at Capella Days 2021!
Capella Days is the annual event that regularly brings together the MBSE community of Capella and Arcadia practitioners.
It will be held online from November 15th to 18th. Don't want to miss out on this free major event? So wait no longer and register here!

This year we'll be trying something new! The program will include a warm-up session where we will introduce Arcadia, Capella and the NASA Systems Engineering Handbook applied to an educational use-case: the HUBBLE Space Telescope. So see you on November 15th, at 3:30PM (CET)! Meanwhile, if you want to learn more on the use-case, check out this blog post written by Frédéric Madiot.
Capella Days is always a great opportunity to meet other Capella users and learn of different ways to use Capella, a multitude of different talks and plenty of Q&A sessions with confirmed users and professionals! So don't forget to save the date for this free, online event, from November 15th to November 18th.
Discover some of the early speakers:
By John Andersson (Stille AB)
By Peter Havenga and Laura Mallon (Thales Australia)
By Prof. Dr. Christopher Shneider Cerqueira and Prof. Dr. Eduardo Escobar Bürger (Instituto Tecnológico de Aeronáutica)