From EclipseCon to SiriusCon: the modeling community at work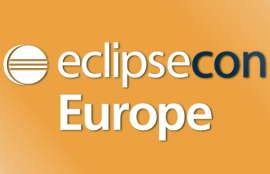 As Etienne Juliot said: "EclipseConEU is definitively the place where so many essential Modeling technologies have emerged".
Last edition was no exception to that rule!
If you also were at EclipseCon EU, you may have met Etienne, Mélanie, Maxime, Cédric, Yvan or Laurent during one of their 4 talks, at the IoT playground or at Obeo's booth?
Booth ready, Yvan hard at work as usual, everybody else at the tutorials... #eclipsecon let's begin! pic.twitter.com/BRP43MbTMo

— Laurent Delaigue (@laurentdelaigue) 3 Novembre 2015
Modeling is useful and innovative. Just have a look at the slides of the Obeo team to be convinced.
EclipseCon EU is over but not the conversation on modeling.
Next December 3rd, SiriusCon will take place in Paris. It's a good opportunity to discover how modeling can change the way you manage complex systems or industrial projects.
Hurry up: if SiriusCon is free, places are limited!
As we already said, SiriusCon will propose a program addressed to both beginner and advanced users:
talks about concrete Sirius applications done by prestigious speakers,
tutorial to start creating your first modeling tool,
a Sirius Clinic to get feedback on your projects or to solve any Sirius related issue you face...
Definitely, there is one for everyone's taste!
See you there!