Enterprise Architecture to act faster!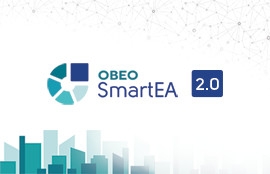 Last June 15th, Jean-François Brazeau & Pierre-Laurent Dugré from Obeo were at la 8ème édition de la Conference of the Enterprise Architecture Practitioners. It was a special year since the Open Group France celebrated its 10th anniversary!
This event, that we support since 2013, is one of the key ones for the French Enterprise Architect community. 200 attendees were there to discuss the 8th edition's theme 'the Enterprise Architecture to act faster'.
This year we presented the last innovations of Obeo SmartEA, our solution dedicated to digital transformations managers.
Bring agility to your digital transformations! With Obeo SmartEA, Enterprise Architects are freed from the tedious task of manual mapping and can spend more time focusing on analysis and communication.