Devoxx France: we got a gift for you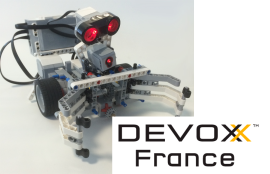 From April 20th to 22d, Obeo will be back at Devoxx France alongside with the Eclipse Fundation & Codenvy whose Eclipse Che project has been recently disclosed.
We are looking forward to discuss about our recent technical innovations, and the latest metamorphosis of the Eclipse platform.
Come booth 26 to discover all the full potential of modeling technologies and of Eclipse Sirius.
We bet these tools have their purpose in your projects!
This will also be the opportunity for you to participate in contest we organize with Eclipse Che to win a LEGO® MINDSTORMS®!
A sample of what we like to do with it?
Let's meet at our booth!