A new partnership: Obeo and JSOL Corporation
Exciting Announcement: Thrilling Partnership Between Obeo and JSOL Corporation

We are thrilled to announce a groundbreaking partnership between Obeo and JSOL Corporation, a group company of NTT DATA and The Japan Research Institute.
This partnership marks a pivotal moment as Obeo and JSOL join forces to bring the power of #MBSE and #Capella to the Japanese market. Obeo's profiency and solutions in MBSE, combined with JSOL's deep-rooted understanding of the Japanese industry landscape, creates an unparalleled synergy. Together, we are committed to driving innovation, efficiency, and excellence in systems engineering and MBSE practices.
We invite all our valued partners, clients, and friends in the Capella community to join us on this exciting journey. Stay tuned for updates, insights, and success stories as we are committed to working hand in hand with JSOL to provide all MBSE practitioners in Japan with best-in-class expertise in Systems Engineering methods and tooling.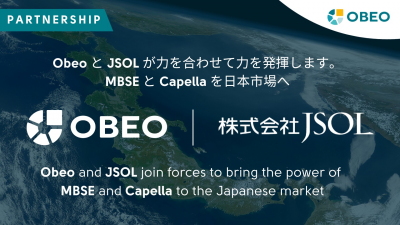 素敵なお知らせ:株式会社JSOLとObeoが画期的なパートナーシップを発表いたします。
NTT DATAグループおよび日本総研が株主企業である株式会社JSOLとObeoの画期的なパートナーシップをお知らせできることを大変嬉しく思います。
この重要なパートナーシップにより、JSOLとObeoは、Capellaを主力としたMBSEを日本企業に導入するために協力します。
欧州にてObeo社が培ったMBSEの専門知識とソリューション、そしてJSOLの培った日本企業へのシステムソリューションと専門知識が、比類のないシナジーを生み出します。私たちは、システムエンジニアリングとMBSEの実践において、革新性、効率性および卓越性を飛躍させることをお約束いたします。
尊敬するビジネスパートナーおよびCapellaコミュニティの皆様、新たなMBSEの枠組みの構築にご参加ください。
Obeoは、日本でMBSE導入を検討される方々へ、システムエンジニアリングの手法とツールに関する最高水準の専門知識を提供するために、JSOLと協力して取り組んでまいります。最新情報および今後の活動にご期待ください。